Exotic pets, rodents and birds
---
Texel Cavies!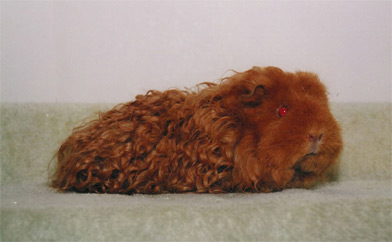 This is a beautiful example of a well coated out young senior texel sow, a red eyed orange named Cheyjohn's Cheekie Sod. She is photographed, shown and coated by none other than our infamous Heather Baskey of Red Rock Cavies. Congrats goes to Heather the Red, she did a beautiful job!


One of the hardest challenges is the texel. The ringlets shouldn't be combed as they tend to get frizzy and lose the intensity of the curl. They must be kept off of shavings and loose hay, as their coat tends to matt so very easily. Finger comb daily, and some people use a conditioner called Cowboy Magic for coat care.

---
Another gorgeous texel, Capricorn, photographed and coated by our very own CavyMomma!!
---
For a great article on coat care, please read Teri Leach's article on Texels: Basic Care and Show Preparation.
---
To send e-mail, click here.