Exotic pets, rodents and birds
---
Teddy Cavies!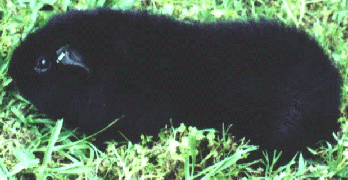 Aries - photo by Amber Williams "SMC Antaries Dark Eclipse"

Teddies are a beautiful animal, often referred to in the pet trade as 'brillo pad' or 'bottle brush' cavies. They are to have a short cobby body, with a rounded face, and short dense kinky hair. As demonstrated by Amber Williams in her photo above of Aries, their coat seems to bristle out from their body evenly, all over including their faces.


The majority of points in judging the teddy lies in the kink, resiliency and undercolour of the coat. The coat should have a wonderul kinkiness to it, a wiry texture, and a spring when touched. The coat should feel vibrant when you brush it up and should be thick and luxurious. The most common fault in a teddy coat is the droopy saddle, or a lack of resiliency just behind the shoulders.


There are two kinds of coats to the teddy. One is a softer more fine coat, and the other appears as a harsher thicker hair.

---
See some beautifully marked animals -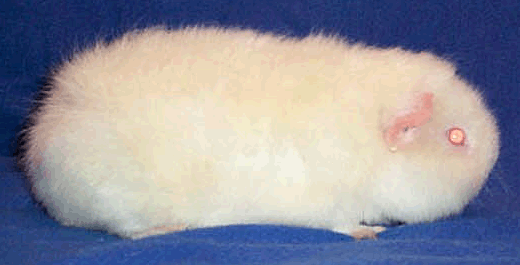 photo Lindsy Adkins, Burch's Sherlock", Pink Eyed White teddy boar
Just take a look at his stunning coat! See how it radiates directly out from the body, and has such loft!

---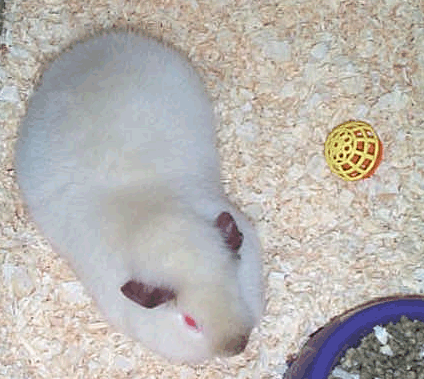 photo Lindsy Adkins, "HHC Willoughby" himilayan teddy boar
** I want you to notice the difference between Willoughby and Sherlock. You might initially notice the darkened ears and nose on Willoughby, but also see he has pink eyes rather than black eyes. He also has dark feet, and a true himilayan (showable) has to exhibit dark foot pads, no pink on the feet (referred to as flesh spots). A lot of folks think that a PE white cavy is an albino, however it most likely has a base of himilayan, just doesn't show it. True albinos (lacking any pigmentation) are very rare in cavies.
---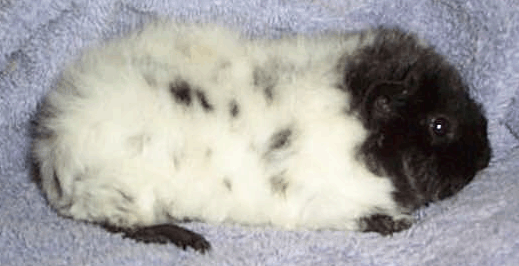 photo Lindsy Adkins, "InClover Daloway" black Dalmatian boar
Just to take a minute and talk about Dalmatians. Dals are a challenge to breed, as you must have good undercolour, even distribution of the spotting, and very good clear spotting with no roaned patches. Daloway is a lovely boar, in addition to all the colouration and markings, he exhibits a wonderfully even and kinky coat! Congratulations to Lindsy for such a terrific breeding!

---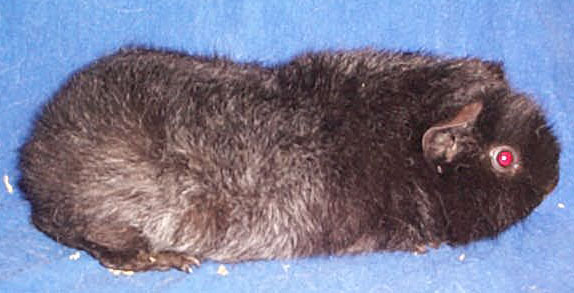 photo Lindsy Adkins, "InClover Reuben" blue roan teddy boar
Reuben shows a great roaning. For a roan to be showable, he must have over 70% of his body roaned, including the tummy. A roan is an animal with interspersed white hairs in the coat. The more evenly interspersed with white, the better. There are two classifications of roans, high grade and low grade. The high grade roans are more white than coloured, and the lower grade roans are darker with less white hairs. Most roans have the self colour on their face and feet. He's considered to be a blue roan because he has ruby cast eyes, and black mixed with white. A strawberry roan would be a self red mixed with white.
---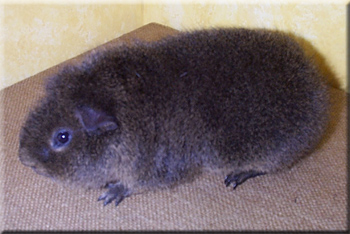 This is Basil, photographed, owned and bred by Valerie Horning of Val's Teddies in New York. Basil is a dilute teddy boar, meaning he has an undercolour of what looks to be chocolate, and a cream tipping to each hair.

---
Need to email me?