Exotic pets, rodents and birds
---
Lucasia Sir William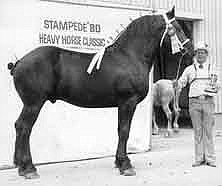 Born May 30, 1977
One of the first Lucasia-raised Percherons to be shown widely and successfully was Lucasia Big John. In 1976, he won three Grand Championships and two Supreme Percheron trophies in Alberta. That fall he went on to be named Grand Champion Stallion at the Toronto Royal Winter Fair.
Big John's sire, the renowned Justimere Showtime also sired a half brother out of the mare Drake Farms Ann. This Stallion was Lucasia Sir William; he was perennially at the top of his class for the few short years he lived.
The progeny of these horses has allowed Lucasia Ranches to show quality Percherons for many years. Lucasia held production sales in 1983, 1986 and 1998. Wayne and Judy had a Percheron dispersal sale in High River, AB but the need to keep Percherons in their lives was too great. The small herd of Lucasia Percherons is slowly growing and more and more frequently of late; Lucasia horses are finding their way to the show ring!

Pedigree
Lucasia Sir William

Sire:
M19450 CAN-JUSTAMERE SHOWTIME 19450 CAN
Sire:
M18432 CAN-RIVERBEND MONKONCARLAET 18432 CAN
Sire:
209525-ROOKWOOD GRANDEUR 14559 CAN
Dam:
F16474 CAN-MONET 16474 CAN
Dam:
F23104 CAN-JUSTAMERE PERFECTION 23104 CAN
Sire:
219707-DRAGANO 16908 CAN
Dam:
F20757 CAN-JUSTAMERE MONA 20757 CAN
Dam:
F25131 CAN-DRAKE FARMS ANN 25131 CAN
Sire:
M19536 CAN-DRAKE FARMS SILVER LAET 19536 CAN
Sire:
M19390 CAN-DRAKE FARMS EGOTIST 19390 CAN
Dam:
F22242 CAN-DELLAET 22242 CAN
Dam:
F24731 CAN-ANN'S GINGER 24731 CAN
Sire:
M19749 CAN-DRAKE FARMS LAET 250291
Dam:
F24340 CAN-LADY ANNE 24340 CAN
---
To send me an e-mail, click here.
---